Mastria Mazda Testimonials
A sincere THANK YOU to all our favorite customers!
Just got my first new car and this place is great and Colton is amazing, this has been the best experience I have ever had at a dealership.
My experience at Mastria was great. The whole procedure was transparent and as informative as possible. My salesman Logan, made my car buying experience so smooth everything turned out even better than expected for me here. So glad I came here.
I was a first time car buyer and knew I wanted a small SUV. The CX-5 was perfect for me. Logan P. was amazing. He took the time to answer all of my questions and followed up when the perfect car came on the lot, after not finding one on my initial visit. He did not push anything on me. He asked me questions to better figure out what I was looking for and what my musts were in a car. He was efficient with communication throughout the process and still answers my questions weeks after I bought the car! He made the car buying process a great experience for me. I highly recommend working with him on your next car purchase!
We were lucky to work with Logan Price on the purchase of our used Mazda CX9. He was great to work with and made the whole process quick and easy. We test drove one day and drove away with the car the next day. I highly recommend Mastria Mazda and especially working with Logan! Thanks for the great experience!!
Got my new car from here last week! Colton, Sales manager took care of me from start to finish. He was very through and patient to all my needs for a new car. I would highly recommend if you are looking for a new car MAZDA is the way to go and ask for Colton!!!
Amazing experience at Mastria Mazda! This was my first experience leasing a vehicle and with Mazda and Mike Maynard assisted me through the whole process! Mike made sure I was taken care of the whole time even though it was super busy at the time I was there! I am so happy to have found a vehicle in this crazy market with an amazing experience at Mastria and Mike!
Excellent purchase experience with Colton Connell!
Great experience with Logan Price at Mastria Mazda. He has explained to my wife and me very details and thoroughly about the trade in and new vehicle. Helping finish all the paperwork and bring home the CX9 the same day.
I walked into the service department without an appointment, concerned about what I thought was a premature "low oil" warning. Ashley and Veronica quickly worked me into their customer flow, got me up to speed on a service bulletin concerning oil consumption in the engine for my model, and even set me straight about a dashboard setting that had been sticking in my craw since I picked up the vehicle last year. Friendly and well-informed mechanics. Just a great experience.
Michael Maynard took great care of me. He was pleasant, enthusiastic, and fought for me to get the best value on my trade-in. He also let me have as much time as I wanted with the new vehicle. The showroom is clean and inviting as well, with espresso-based coffee offerings. I would recommend Mastria to anyone looking for a new or used Mazda.
Kelly was AWESOME on helping us find a car that had everything we wanted, especially with a baby on the way!! Really easy to talk to, not your cliche sales pushy, and totally patient with all our questions. Defiantly ask for her when visiting and looking for a new car.
Had a hell of a tough time finding a used Tacoma. It took months but finally found our dream truck. The only problem, it was 3 states away at Mastria Mazda. Logan Price walked us through the ins and outs of purchasing a vehicle from a different state. He was knowledgeable and eager to help us. We took the trip to Mastria to test drive the vehicle and once we decided to purchase, Logan helped us arrange for the truck to be shipped back to our home. I may live hundreds of miles from Mastria but I wish I could buy all my vehicles from Logan!
Great experience purchasing my latest car at Mastria. It was a pleasure working with Logan P. Logan listened to us, provided great information and answered our questions. He let us take the time we needed to make our decision, no hard sell. He followed up, was professional, and timely. I would definitely return to Mastria to work with Logan again.
Kelly C. took great care of us!! Friendly and welcoming. Thanks for your time!
Kelly was so awesome. She went above and beyond.
Prior to purchasing from Mastria Mazda we visited three Mazda dealers and emailed at least a dozen more. We ended up buying from Mastria. Mike Luu. the general sales manager, found us a car. He was very willing to any answer all my questions and always answered in a timely manner. Our sales person, Logan, was very professional and helpful, and made the whole process from signing all the paperwork to driving the car off the lot, very enjoyable and easy! Doug, the business manager made the paperwork easy to navigate. I highly recommend Mastria Mazda, we had a great experience!
I bought a car from Mastria Mazda and Mike Maynard helped us out through the process. It was fast and painless. He got us in our new car the same day. I can't say enough good things about my experience.
Mike Maynard and Jerry Chan helped us today at Mastria. They were both friendly, helpful and knowledgeable. Our whole buying and trading experience was a breeze. Thanks guys
Great Experience, it started with the first impression from Adam Medeiros the Internet Sales Manager. He was very polite and informative. It was a great first experience. I then was greeted by Andrew and the staff. All and all I had a wonderful experience and would recommend Mastria Mazda to anyone. Definitely will be coming back!!
Purchased a new SE Mazda CX-5 2022. I absolutely LOVE it, the color is called: Deep Crystal Blue Mica and it looks and performs beautifully! The salesman was Logan Price, he's a true professional but also sincere and kind too! I put a deposit on a red one but didn't like the color when it arrived. But he was able to turn the situation into a positive experience! He was able to quickly get me the color I wanted along with some extra features (went to the next model). Logan made himself available by phone and text and was always quick to answer questions. The financing guy, Doug was genuinely a nice guy! I was very satisfied with the financing and extended warranty package! When I went to pick up the car, Logan spent at least an hour going over all the options and features along with the Mazda app! He did not make me feel rushed and he explained things very thoroughly! He also encouraged me to message him with any questions that come up later on! If you want a salesman that isn't pushy, go see Logan Price! He's amazing at what he does, he will treat you with nothing but respect! I give Logan an A+.
Had a very enjoyable experience shopping at Mastria Mazda! Michael Maynard was my salesman and he was very helpful when coming to a deal for my new truck. The truck was ready for me when I arrived at the dealer and everything was quick and to the point following that. I would not hesitate to do business with them again. Thank you
Reasonable prices and great customer service! Kelly did a great job helping us find our new car!
Logan Price is the best sales associate, hands down the best experience i've ever had buying a car highly recommend Mastria!
I recently bought a new 2022 Mazda CX-5 at Mastria Mazda. Logan Price was an excellent car salesman to work with by keeping me informed, very knowledgeable, and followed through on actions he took responsibility for… thanks again Bob
Kelly at Mastria Mazda is awesome! Super helpful!!
Our Service Is Unmatched
The service team at Mastria Mazda has been factory-trained to provide you with exceptional service and ensure your vehicle is performing at its best.
Take One Step Closer
If you're in the market for a new Mazda, take the first step by applying for financing. We'll work with you and our network of banks to get you in the right loan for the right vehicle.
A higher state of ownership.
Mazda Certified Pre-Owned
Only the best-maintained late-model vehicles make the Mazda Certified Pre-Owned (CPO) vehicle cut. To be eligible, they must pass a rigorous 160-point inspection. From major to minor components, each vehicle is scrutinized and tested. So you can feel confident and enjoy every drive in your Mazda with an elevated state of being, mile after mile.
View Inventory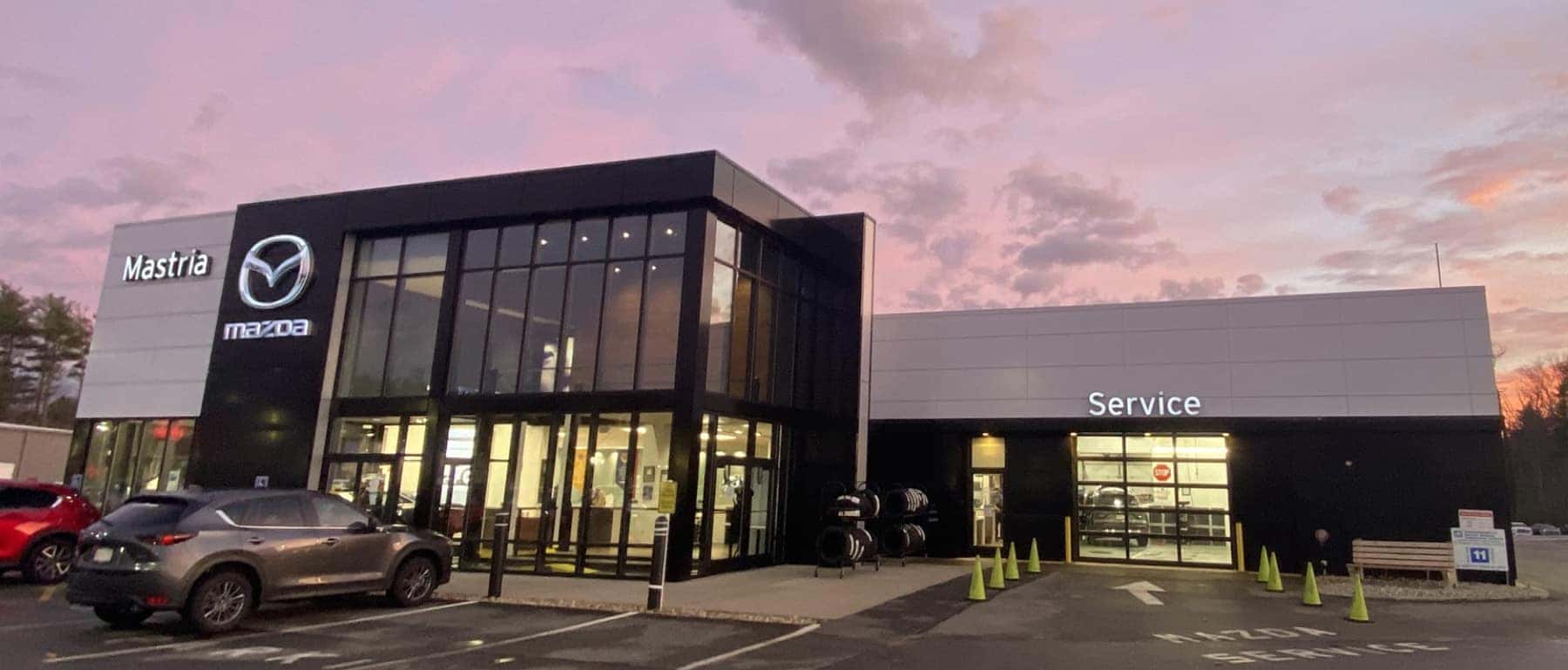 Welcome to Mastria Mazda
At Mastria Mazda, there's nothing more important to us than our customers. Our valued clients are the reason that our business has been so successful over the years, and from the bottom of our hearts, we thank you for continuously choosing our Raynham, Mazda dealership time and time again. To show our gratitude, our promise to you is that we will always make your needs our top priority. We're in the business of satisfying our customers, and we aren't happy until all your needs are met.
Whether you're coming to our Mazda dealership near Easton, MA, in search of a new Mazda or a pre-owned vehicle, we're happy to work with you to discover your unique search criteria. Maybe you want a sporty sedan that promises excellent mileage. If that's the case, take a look at the new Mazda3 and Mazda6 -- we promise you won't be disappointed! If you require a larger vehicle fit for a growing family, check out the new Mazda CX-5 and Mazda CX-3. With innovative technologies and stunning good looks, both of these SUVs are set to impress. For those who don't necessarily want to buy a new car, we also have a great selection of used Mazda cars and SUVs, as well as Mazda Certified Pre-Owned vehicles and used cars from other top automakers. Pick your favorite, then chat with a member of our Mazda finance team to learn about all the options available to you.
Once you've selected your dream car from our showroom, you can expect to enjoy it for many miles and years to come. However, in order for it to continue to perform its best, it's essential that you adhere closely to its routine maintenance schedule. We make that easy at our Mazda dealer near Plymouth -- just schedule an appointment at our Mazda service center whenever necessary. We can handle all your service and even more complex repairs and body shop work. And if you ever find yourself in need of replacement components, you can order OEM Mazda parts through our dealership.
With a convenient location at 1545 New State Highway Rte 44, Raynham, MA, Mastria Mazda is just a short drive away for our neighbors from Taunton and Mansfield, as well as our friends in Brockton and Stoughton. Come visit us today, and drive home in a car that excites!
Mastria Mazda
Raynham, MA
1545 New State Highway Rte 44, Raynham, MA 02767
Hours
Sales
Monday - Friday: 9:00 AM - 6:00 PM
Saturday: 9:00 AM - 5:00 PM
Service
Monday - Friday: 7:30 AM - 6:00 PM
Saturday: 7:30 AM - 5:00 PM